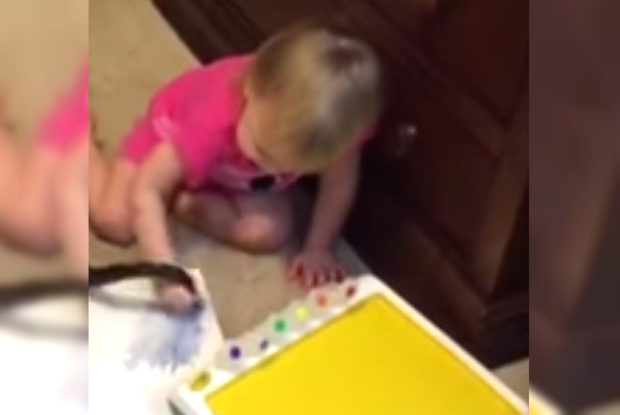 As any parent knows, kids are determined creatures. And once they get an idea in their head and makes up their mind, they will do whatever they possibly can in order to get their way.
When one toddler let her dad know that she wanted to do arts and crafts and paint, he tried to get her to pick a different activity since they didn't have any paint brushes for her to use. At first, dad Lance Ellis thought his excuse worked, and baby Scarlett dropped the subject.
Ellis left his little girl playing on the floor with other toys, yet when he peeked in a few minutes later from the kitchen, he couldn't believe his eyes when he saw Scarlett had opened up her paint set and started painting.
However, since there were no paint brushes to be used, clever Scarlett got her extremely patient and loving Great Dane Miko to help by having him lie down beside her artwork so that she could use his tail as a brush.
Luckily, Miko doesn't seem to mind too much, and was free to leave if he was really uncomfortable, however, dad still makes sure Scarlett knows she has to be very gentle while using her makeshift paint brush.
Watch the entire video below to see how incredibly patient Miko is with baby Scarlett
How would you react if you saw your child doing this? Let us know what you think in the comments below, and please SHARE this with friends on Facebook.